Dan A. Saathoff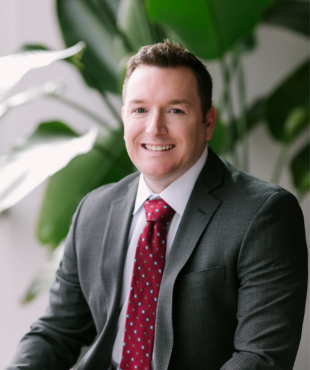 Dan A. Saathoff
Attorney

2000 Shawnee Mission Pkwy, Ste. 210
Mission Woods, KS 66205
danny@kennyhertzperry.com
Phone: 816-527-9447‬
A skilled negotiator and transactional attorney, Dan has experience representing clients throughout the entire lifecycle of their business from entity formation or acquisition through the sale of their business. Dan understands the many unique local, state and federal legal, licensing and permitting requirements prevalent in the restaurant, bar & hospitality industry. This requires expertise with many critical aspects ranging from liquor licenses and health permits to employment contracts and construction agreements.
Read More
Dan has negotiated significant deals on behalf of his clients, including critical agreements on their behalf such as commercial leases for real estate owned by Fortune 500 companies, and partnership and vendor agreements with national retailers and suppliers such as Costco, Sam's Club, Sysco, and US Foods. Dan has also handled some of the higher-profile transactions on the acquisition and sale of numerous restaurant concepts between competitors in Kansas City and St. Louis; as well as sales and restructures of construction and tech companies.
Dan has previously served as General Counsel for a Kansas City-based restaurant group, with over 15 locations across six states, and continues to represent some of the KC Metro's most popular restaurant and hospitality concepts. He has gained deep industry experience in complex transactional matters and, when necessary, protected his clients through litigation.
In his prior role as General Counsel, Dan worked alongside ownership to provide counsel during a tenure that included unprecedented growth and expansion into Tier-1 Markets and Class A retail space, such as Nashville. As General Counsel, he oversaw all lease negotiations and construction agreements related to subsequent buildouts. Dan has worked on countless commercial agreements and established relationships with national food and liquor distributors, commercial real estate brokers, venture capital firms, construction and architect firms, and social media and advertising agencies. Dan can pass on a unique perspective to his clients, as he has substantial experience in the day-to-day business world, not items only limited to legal, and can often identify issues that a strictly career attorney may not catch.
In addition to his transactional background, Dan also brings substantial litigation experience and has represented clients in lawsuits including product liability, consumer protection, breach of contract, and commercial insurance defense. Dan's accomplishments include obtaining dismissals or significant monetary settlements for his clients, on issues involving violations of the Kansas Consumer Protection Act (KCPA); the Missouri Merchandising Practices Act (MMPA); shareholder and partnership lawsuits, including piercing the corporate veil; and breach of contract and unjust enrichment claims. Further, Dan has represented both commercial tenants and landlords through litigation or mediation involving breaches of the lease, defaults, construction defects and delays, premise liability, mechanics liens, and personal guarantees.
Dan understands the economic considerations businesses face, and he strives to deliver exceptional value to his clients.
When not in the office, Dan spends time at the Lake of the Ozarks, participating in BBQ competitions, and enjoying the outdoors—whether playing golf, boating, traveling, and snowboarding.
Dan, his wife Kayli, their son Andrew, and their golden retriever "Bo"—named after sports legend, Bo Jackson—are proud to call Kansas City home. He is an avid fan of the Chiefs, Royals, and Kansas Jayhawks. And he's especially proud of the "Loose Mansion," a family-owned business and award-winning wedding and corporate events venue in downtown Kansas City.
Education
Dan graduated from the University of Kansas with a double major in political science and mass communications and earned his J.D. from the Creighton University School of Law, with an emphasis in litigation, and a concentration in negotiation and alternative dispute resolution (ADR). Dan is admitted to practice law in Kansas and Missouri.
University of Kansas –Lawrence, Kansas – 2005-2009– BA in Political Science; BA in Mass Communications
The Creighton University School of Law—Omaha, Nebraska –2010- 2013 – -J.D.